Photo Albums
What about the blog?
We are retiring the blog as a separate way of communicating with members. Old news can still be be found at aacfallscreek.blogspot.com
Notice is given that the 2020 Annual General Meeting of AAC Falls Creek Inc will be held:
DATE: Tuesday, 25 August, 2020
VENUE: via Zoom videoconference
TIME: 7:30 pm - Annual General Meeting to commence
RSVP by 20 August 2020 is essential
AGENDA
Apologies
Receive and adopt the minutes of the previous Annual General Meeting
Business arising from the Minutes
Correspondence
Receive and adopt the Committee's Reports
Receive and adopt the Profit And Loss Account and Balance Sheet as at 31 December 2019
Proposed New Annual Subscription for 2020
Receive and adopt the Auditor's Report
Appoint an Auditor for 2020
Election of the Committee
A.A.C. Business
General Business

Bushfires
Covid-19
Life Members
---
Preparation and conduct of the meeting
COVID-19 restrictions in Melbourne will not allow a normal AGM to be held by the current deadline. Instead, attendance will be via Zoom videoconference only. This will create some challenges but the committee thinks that these are manageable. Various snowsports clubs and other associations report success with this approach.
To be admitted to the meeting

you must RSVP by email to

This email address is being protected from spambots. You need JavaScript enabled to view it.

by 7pm Thursday 20th August

. Prior to the AGM you will be sent a link to join the meeting.
The meeting will be kept as succinct as possible. We also need to make voting as uncomplicated as possible, while ensuring that it is done faithfully.
Therefore

all nominations, proxies, items of general business must be submitted to the Treasurer at

This email address is being protected from spambots. You need JavaScript enabled to view it.

by 7pm Thursday 20th August

. Any proposed Motions must also be provided to the Treasurer by this date.
You are strongly encouraged to send any questions to the Treasurer by the same date. There will be an opportunity to submit some questions on the night but questions with notice will be more manageable with the technology. (Questions on the night will be via SMS or Zoom chat.)
If you will be attending the meeting, please prepare in advance. Install Zoom on your computer, tablet or phone and use Zoom's facilities to test that your audio and video are working. If you have a headset with microphone, please use it to reduce background noise.
Please keep your mic muted during the meeting unless the chairman recognises you to speak. The chairman or his assistant may mute you if necessary. We prefer having all cameras active during the meeting but you may be asked to "mute" cameras if there are difficulties.
Voting may be a bit laborious. Please be patient if votes need to be counted.
Motions to be voted on
That the committee reports be accepted
That the meeting accept the Financial Statements as recommended by the committee
That the adult annual subscription rate remain at $370
That the meeting accept the Auditor's Report
That E F McPhail and Partners be appointed as auditor until the next AGM
(our current auditor John Watty will be operating under this name)
That 4 ordinary committee members are required for the coming year, in addition to the 3 executive members
Election of committee members
The committee recommends that a total of 7 committee members be elected (3 executive members plus 4 ordinary committee members). At the previous meeting 9 were elected but the committee believe that the roles can be consolidated this year. At the committee meeting after the AGM, the committee elects members to specific positions. At the time of this notice, Nigel Cowie and Tony Ryder intend retiring. All other current members are intending to stand again.
Documents
Jenny Hughes (Secretary)
C/- ProAcct Advisors & Accountants Pty Ltd
PO Box 140 BALWYN VIC 3103
Phone: (03) 9880-9600
Fax: (03) 9880-9699
Email: This email address is being protected from spambots. You need JavaScript enabled to view it.
Details

Last Updated: 27 October 2020

27 October 2020
Despite all our best hopes, the recent escalation of the Melbourne and Victorian COVID-19 restrictions, and the decision by the Lift Company not to re-commence operations has prompted the Committee to make the decision to keep the Lodge closed for the remainder of the Winter 2020 Season.
The announcement from the Lift Company released yesterday advised that "Vail Resorts today announced it will not reopen its lift operations at Falls Creek and Hotham for Spring skiing following the Victorian Government announcement of Stage 4 restrictions for Melbourne and Stage 3 restrictions for regional Victoria for six weeks, amidst continuing challenges associated with the spread of COVID-19".
Naturally this was very disappointing news indeed as we had all hoped that both the snow conditions and the COVID-19 situation would have improved to a point where the 2020 season could recommence in late August and then into September. Alas, it isn't to be.
Anyone with bookings for the remainder of the Winter season will have their booking cancelled and a full refund provided.
Exactly when the Lodge can open again remains a work in progress and is dependent on many COVID-19 related variables. Rest assured, we are all working to open the Lodge as soon as it is both safe and practical to do so and will continue to update members accordingly.
Please continue to stay safe and well.
Details

Last Updated: 27 October 2020

27 October 2020
Everything was heading in the right direction. The snow had finally come, the lifts started to turn, restrictions were being relaxed around Australia, and AAC Falls Creek was all set to open its doors. And then the news came that Melbourne metro was back into lockdown for 6 weeks and the Lift Company made the decision to cease operations for the next six weeks. We got so close!

The amount of work done to get the lodge ready for opening in a COVID-19 environment was colossal. It took endless hours of after-hours work by Committee Members John Burnett, Jenny Hughes and Justin Checcucci. With John and Jenny taking the lead on the Safe Operating Plan, it meant having to keep up with a myriad of organisations and guidelines, including the Federal Department of Health, Victorian DHHS, DELWP, Hospitality Industry guidelines, Tourism Industry guidelines, Safe work Australia, FCRM, FCAA, and ARIAG. Together they worked tirelessly to get us open for season 2020. The Safe Operating Plan attracted praise from FCRM management and JB and Justin also visited the lodge one weekend to physically prepare the lodge with COVID-19 signage and work with Andrew and Myra to re-arrange our common areas to ensure social distancing measures could be met (JB and Justin even found the time to fit the new pot rail in the kitchen, see image beow).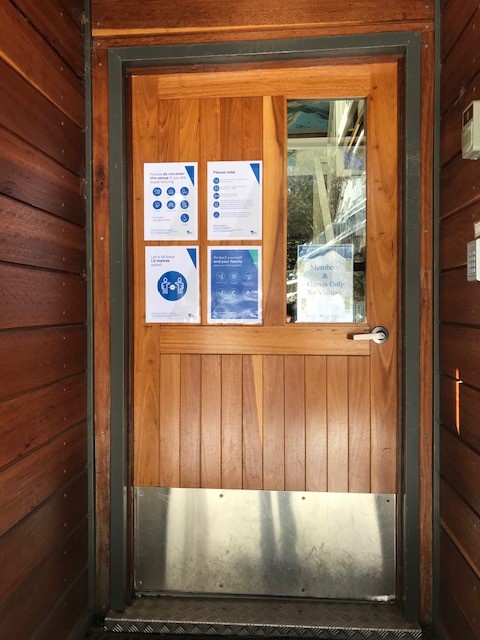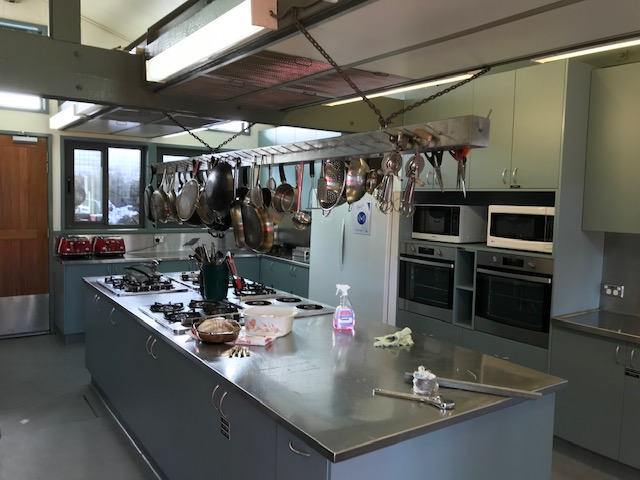 And we can't forget our Lodge Managers Andrew and Myra, too. Both were intimately involved in getting to grips with all the new sanitisation measures that were going to be required, all the while having to deal with the uncertainty of whether the season was going to go ahead.
So where to from here? As Nigel advised in his COVID-19 update on Friday 10th July, with the lifts no longer operational the AAC Falls Creek Lodge is closed until at least August 19. Anyone with bookings during this time will have their booking cancelled and a full refund provided. A big shout out to Alan Long, who has been working hard to keep up with everyone's bookings, cancellations and refunds.
Hopefully, the snow keeps falling, restrictions are lifted, the Lift Company recommences operations, and we can enjoy some skiing and boarding during the back end of August and into September. One thing's for sure, if we can open in six weeks' time, we have the right people, processes and knowledge to ensure we meet all COVID-19 requirements.
Until then, please stay safe, look after your loved ones and keep an eye on the AAC Falls Creek website, Facebook and Instagram pages for the latest updates.
Details

Last Updated: 27 October 2020

27 October 2020
Most of you will have read that Vail Resorts have decided to close all lift operations at Falls Creek until August 19 due to Victorian Government Covid 19 restrictions.
It is with regret that we will now close the lodge until that date. When we are closer to that date we will be able to reassess whether we reopen the lodge or not for the remainder of the season. There is a good chance the lifts will not reopen but of course in these times anything can happen.
This is particularly disappointing for the committee as we had put so much work into preparing the lodge for the opening on July 6. In particular I would like to thanks John Burnett and Jenny Hughes who spent long hours and days producing a Covid 19 plan for the operation of the lodge. It was presented to Falls Creek Resort Management for review at which CEO Stuart Smyth remarked on its professionalism and detail. The photos below show some of the signage and preparation that was made.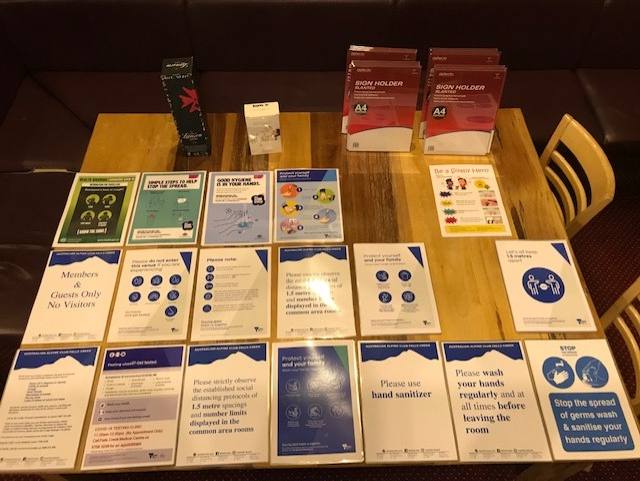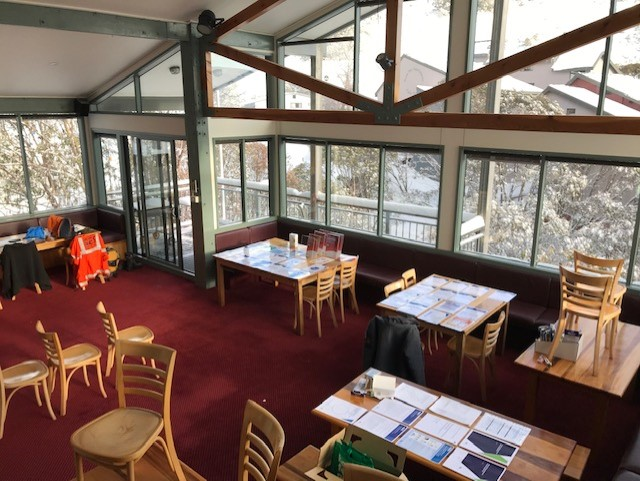 Until we get closer to August 19 and we talk again, I wish that you and your families stay safe under Covid 19 restrictions.

Nigel Cowie
President
Details

Last Updated: 27 October 2020

27 October 2020
We were about to confirm that the AGM would go ahead on 25 August at the usual venue. However the new restrictions mean that we will reassess that. The proposed date is less than a week from the date that Stage 3 restrictions are scheduled to ease. There is no guarantee that we can hold an in-person meeting then. We may either defer again, subject to what the regulator allows, or organise a video conference AGM.
The annual reports were provided previously. If you would like to discuss any matters ahead of the AGM, please contact the relevant committee member/s.
Details

Last Updated: 27 October 2020

27 October 2020
Thank you for your patience about when and if the lodge can open this year. We know that many of you are very keen to know when you may be able to enjoy skiing and boarding at Falls Creek. While the committee has spent considerable time preparing for a season, ultimately we have had to wait for government permissions and guidelines.
Both the lift company and resort management have set final dates for requesting refunds on season passes: 18 June for resort entry passes and 19 June for Epic Australia Passes. This update aims to give you information that might help you decide how much you might ski or board this year.
The lift company has announced that

There will be no same-day tickets for sale, only pre-purchased tickets
Multi-day tickets went on sale on 15 June
Day ticket sales open on 24 June
Season pass holders wishing to ski from 24 June to 12 July must book a place but cannot do so until 23 June. There is an allocation set aside for season pass holders but these reservations are "limited, and are not guaranteed".

At Thredbo, when day tickets went on sale on 11 June, all school holiday dates were sold out within hours. It is impossible to predict if this would happen at Falls Creek.
We are preparing to open the lodge from 13 July, with a small pilot group of existing bookings in the week prior.
The committee has been working on a detailed Covid Lodge Management Plan which is a prerequisite for opening. We are awaiting some final guidelines from the Department of Health and Human Services to finalise the plan. If official guidelines are eased, our plan will also be reviewed. We think out approach is cautiously optimistic and are preparing as best we can, given available information.
THIS SEASON WILL BE LIKE NO OTHER. When the lodge opens, with our current understanding of the regulations, you need to assume

Bookings will be capped at 20 people
Access to the dining room will be restricted to ensure 1 person per 4sqm
Kitchen access will be limited to short allotted times with only 6 people allowed in the kitchen at a time, for any reason. 1.5m spacing will need to be adhered to
You will not be allowed to have any visitors
The spa and sauna will be closed
The games room sporting facilities will be unavailable. There will be restrictions on the use of the drying and ski rooms. The laundry facilities will be unavailable to guests
You will need to observe social distancing and diligent hygiene and be more involved in cleaning during your stay and prior to departure
You will need to agree in writing to special conditions before bookings could be confirmed. You would need to complete documents on arrival and departure
You will be sent home if you or your guests, including children, do not comply with covid conditions
You would be sent home if you or your guests developed any covid symptoms or if the lodge has to be closed
There is still a risk that you or your guests could be infected with covid-19

When the club can open bookings there will be restrictions

The only bookings accepted will be Monday to Sunday to allow for deep cleaning of the lodge as part of changeover
Check-in time would be no earlier than 2pm Monday. Check-out time would be no later than 11am Sunday. Luggage could not be stored before check-in or after check-out. No return to the lodge after check-out would be permitted
No unaccompanied guests
No sharing of rooms between people who are not partners or do not live together
The accommodation rate will be unchanged. A 6 night stay will be at the normal 7 night rate
People with 2-week bookings will need to depart the lodge between 11am Sunday and 2pm Monday

It is not clear what services will be available on the mountain

Village shuttle and the road shuttle will not run
Restrictions on lifts may mean longer queuing times than usual
The number of lifts may be limited, even if snow is plentiful. (There is no guarantee yet that Eagle will operate)
Food and beverage outlets will be restricted
Most mountain businesses will not accept cash
Ski school may be limited. No lessons for children under 6
The committee will finalise the Covid Lodge Management Plan, advise you further about lodge operation for 2020 and open bookings for those who wish to use the lodge under these stringent conditions. The committee will continue to review the operation of the lodge as Covid restrictions change.
Please think very carefully about whether you, your family and guests are willing to accept these risks and conditions. Please refrain from booking if you are not confident that you can enjoy your stay under these circumstances.
Details

Last Updated: 27 October 2020

27 October 2020
This week there have been some announcements of interest to frequent visitors to Falls Creek. You will soon need to decide whether to seek refunds on season passes.
The lift company have announced that the final payment for season passes will not be deducted on 1 June as scheduled. Instead they will make further announcements by 15 June. They expect to offer different passes that are more appropriate for the covid-19 affected season. You can choose to purchase a new pass or get a full refund on the Epic Australia Pass. (Reading between the lines suggests that the normal Epic Australia Pass won't be available.) Details at https://www.epicaustraliapass.com.au/epic-australia-now/86-2020-eap-update
Resort Management had deferred the final payment of resort entry passes until 3 June. They now say they will not process the payments until it is clearer when the season can start. They have announced a refund policy whereby you can apply for a refund or credit to 2021 by 10 June. This will only be actioned if the government has not allowed the season to begin on 6 June. Details at https://www.fallscreek.com.au/resortentry/2020-refund-policy . STOP PRESS: The season will officially start on 22 June but no accommodation with communal facilities can operate then. If the resort management refund policy remains unchanged we will not have the option of a refund. We can only hope that this is reviewed.
Queensland has said that it is unlikely to relax interstate quarantine restrictions till at least September. WA, SA and Tasmania have not announced any relaxation of their border restrictions.
The committee is monitoring information available from government, resort management and industry bodies. Unfortunately it is still very unclear if, when and how the lodge can operate. We are however very focused on finding some way that the lodge can operate safely and legally this year. Nothing can be decided yet but we are sharing some possible scenarios with you to help you make decisions on season passes. This list is not exhaustive, nor have any decisions been made about changed conditions.
The lodge is very unlikely to open before July, at best. We guess that August is more likely but not assured
The number of people able to stay at any one time is likely to be reduced significantly
Some rationing of lodge stays may be necessary
The lodge may need to be completely closed for 1 or more days a week for thorough cleaning. This could restrict the types of bookings available
Entry to kitchen and dining room may have to be rostered (with time limits on meal preparations). Other common areas may also need to have restrictions. You may need to spend significant time in your room
Table sitting may have to be pre-allocated for the duration of stays and continually sanitised by members
The spa and sauna may not operate. Neither may the games and TV rooms nor the spare toilet and shower
You may be required to sign legal documents before, during and/or after your stay
If there is a suspected infection at the lodge, you could have to depart immediately.
Strict enforcement of mandated covid-19 rules and related club procedures, with termination of stays for non compliance
Even with diligent compliance, the risk of infection at a ski resort or ski lodge cannot be eliminated
It is possible that lift operations and other services may also be limited
We very much hope that drastic measures are not required. Before deciding whether to seek season pass refunds, you should, however, consider whether you would make enough use of the passes if some of these scenarios played out.
The committee very much regrets that we cannot give you more definite guidance. We will continue to monitor the relevant announcements and refine plans to match the unfolding situation and communicate these with you.
Details

Last Updated: 27 May 2020

27 May 2020
To minimise admimistrative work and give members choice, the following procedure will apply for refunds
If your confirmed accommodation is cancelled for covid19 related reasons, a full credit will be registered to your account
You can contact the booking officer to arrange an immediate refund
If you have unused credits, you will be contacted before the end of the year to arrange a refund
The existance or not of a credit will have no effect on booking priority
As the situation with lodge opening becomes clearer, Alan Long will be touch with people with confirmed bookings to discuss cancellations
Details

Last Updated: 27 May 2020

27 May 2020
As previously advised, the Annual General Meeting has been postponed. The likely date is 25 August, but it is not possible to book a venue while current restrictions are in force.
The club's financial accounts for the year 2019 have been finalised, audited and approved by the committee.
The annual reports from the committee have also been completed.
If you would like to discuss any matters ahead of the AGM, please contact the relevant committee member/s. Other AGM documents will be provided prior to the meeting.
Details

Last Updated: 27 May 2020

27 May 2020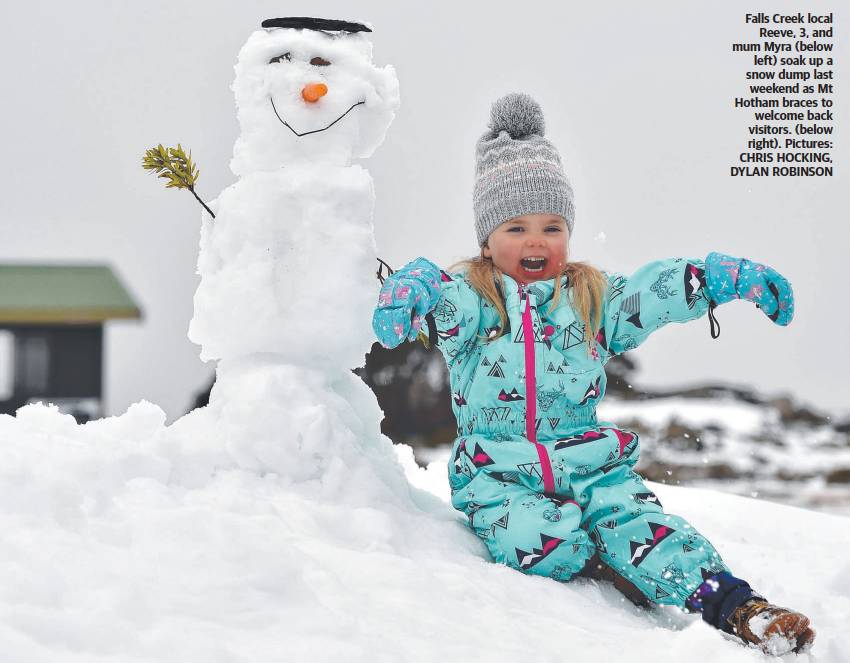 When the snow fell in mid-May, Reeve was featured in Melbourne's Herald-Sun. Myra wasn't too far away.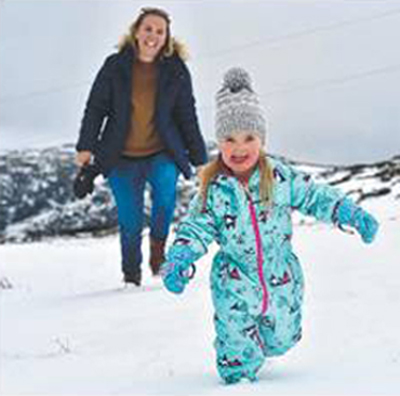 Details

Last Updated: 27 October 2020

27 October 2020