Full adult members pay a non-refundable joining fee of $3,300 and buy a debenture for $4,000. The debenture can be sold to an approved buyer or transferred to a family member. Download full cost details.
For a modest outlay of $7,300 you can enjoy a friendly home in the mountains.
The AAC Falls Creek lodge underwent a major renovation over the summer of 2011/2012. This brought the building up-to-date with the latest building codes and bushfire regulations and increased the thermal efficiency with double-glazing and increased insulation. The busiest area, the lounge/dining room, was extended, recarpeted and re-upholstered with leather.
The club was granted a new 50 year lease for the lodge.
Further renovations in 2017-2019 rejuvenated the sauna & spa area, recarpeted entry and bedroom wings, modernised lighting and a host of minor improvements. The club is committed to maintaining a modern, comfortable lodge.
AAC Falls Creek is part of a larger group of similar Clubs, the Australian Alpine Club (AAC). There are AAC lodges at Falls Creek, Mt Hotham, Dinner Plain, Perisher and also Niseko in Japan. All AAC Falls Creek members have good access to these lodges and also reciprocal rights to other club lodges at Thredbo, Perisher, Charlotte Pass and Mt Buller.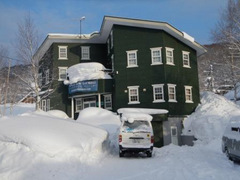 We encourage AAC members to stay across our network of Lodges, increasing the range of snow sports activities and meeting new people.
The AAC also encourages Club competitions and has annual races at Club and National level, combining skill and social occasion.
The AAC Falls Creek is not a commercial Lodge and is not open to the general public. Members and Guests understand that while there is a Lodge Manager, we tidy up after ourselves and help out if needed. We look after our friends and also our guests, in the one house for the time we are at the Lodge.