Continental breakfasts on Sundays
Last year this change was brought in to help cope with COVID cleaning obligations. COVID or not, the committee has decided to continue this. Peak season Sunday changeovers are always a challenge. Moving to contenental breakfasts on Sundays should allow rooms to be ready a little earlier.
COVID
The committee fervently hopes that 2022 can be a normal sesaon. However booking arrangements and services may change if the necessity arises. Please check the website regularly for updates
Booking System Facelift
The Booking System developer has given the booking system a bit of a facelift, mainly on the booking matrix screen. It looks a bit different but works in much the same way.
Small Screens (Tablets/Phones)
Historically, the booking matrix has not worked well on Tablet and Phone screens. There is now an alternative that should be automatically enabled on these devices but you can choose it on larger traditional screens too.
The button circled in red switches between the new small screen display and the full booking matrix. Once you have begun a booking it is best to stick with the format you have chosen.
The calendar buttons, circled in blue, help you specify the first and last nights of your booking. The X buttons circled in green let you clear a date to start again.
Use the checkboxes to select the beds. You can easily go to the Availability screen to check available beds and dates.
Once you use the Next button, the booking process is the same as if you started with the full booking matrix.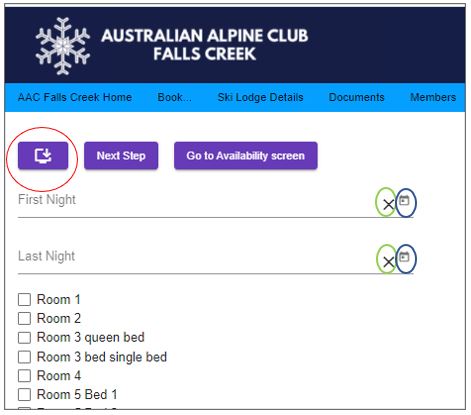 Exclusive Single Use Policy
There has been increasing interest in members being allowed to book a room for themselves without needing to share with another single. The 2021 AGM requested that the committee give consideration to making this possible. A singles booking policy must balance the needs of members who do not wish to share a room with the demand for beds from other members and the risk of diminished revenue to cover the Club's expenses.
A limited number of rooms will be made available for exclusive single use by singles: rooms 6, 7,8 and 11, but a maximum of 3 rooms at a time. In quieter times or if there are vacancies close to the intended time of stay, the Booking Officer may allow additional bookings for exclusive single use. Exclusive use by a single is only available to a member of AAC Falls Creek, for themself.
The fee to block out the room will be the same as the member's fee (i.e. as if paying for 2 members).
Unfortunately the booking system does not have the facility to smoothly automate exclusive use bookings. The Booking Officer will enable the policy where the system cannot.
This arrangement will be trialled in 2022. Hopefully this will give some welcome flexibility to Members who come alone to the Lodge, without unduly restricting the number of people who can enjoy the Lodge at popular times
For full details and instructions on how to make exclusive single use bookings, see the Exclusive Single Use booking policy
Booking into other AAC Lodges
You can now logon to Perisher as well as Anton and Dinner Plain booking systems using your AAC Falls Creek logon credentials. If you are booking for other members, they will need to first log on to the other Lodge to make sure that they will be recognised as members when you book for them.
EFT payment details
These will no longer appear on booking system invoices but you see them when you are logged in and about to pay for a booking.
Waitlisting
Waitlisting rules are unchanged for 2022.
Notes from the last 2 years that may have been overlooked amid the COVID chaos
Payment must be made promptly:
Some Members have been quite slow to pay for bookings. In some cases bookings were cancelled very late, having never been paid for. The Booking Officer will now cancel bookings not paid for in the appropriate time. This is within 7 days for normal bookings and 1 day for approved waitlist requests.
Late season discount:
Stay at the Lodge during the last week of Victorian September/October School Holidays for a very special low rate.
Tighter enforcement of booking priority:
The long-standing booking rules state that only bookings for Members open on 1 February. Bookings for family of members must wait until 8 March and other guests until 15 March. Bookings for Members of other AAC lodges open on 1 March. To improve the enforcement of this rule, on any night a Member can only be booked into one bed in their own name. You can use the comment section of a booking to tell the Booking Officer if you intend booking for others as well.
Booking information for all AAC is online:
The booking information sheet has been replaced by web-based information. You can read this online or download it as a PDF, or just download selected sections. The Falls Creek specific information is also provided at aacfallscreek.com/book.html .