For those that have driven up to Falls Creek and other Resorts when it's been snowing, you will have noticed that sometimes the signs will say fitting chains to two-wheel-drive (2WD) and when the snow is really heavy the signs will say fitting chains to 2WD and four-wheel-drive (4WD) vehicles. For those of us that own 4WD and All-Wheel-Drive (AWD) vehicles, we have enjoyed the freedom of usually not having to fit snow chains unless it's been really heavy snow and/or ice. Well, from this year onwards, unless you have recognised 'snow tyres' on your 4WD/AWD vehicle, you might still have to fit chains to your vehicle 4WD/AWD.
Coming into this winter, rumours around the mountain have been rife with comments about 4x4 and AWD vehicles needing to be fitted with snow tyres to avoid having to fit snow chains when the conditions require. Snow tyres are prevalent in Europe but not so much here in Australia. Snow tyres are not the same as All Terrain (AT) tyres or even traditional Mud and Snow tyres. Snow tyres have a special tread pattern and a special soft compound that improves performance when driving in snow and ice.
The Alpine Resorts (Management) Regulations 2020 was released last year with an important update regarding the fitting of snow chains (see page 30). Essentially, VicRoads have created a new 'class of vehicle' which is "vehicles that have Snow Tyres fitted to all wheels of the vehicle". In addition, there are other important changes as follows:
Firstly, the new VicRoads regulations will include a requirement that wheel chains comply with the European ON-V5117 Standard. Ladder chains will not be approved
There is likely to be a special classification for AWD vehicles fitted with identified winter/snow tyres in relation to wheel chain fitting
Winter/snow tyres will be required to comply with ECE 117.02 snow test and be identified by the 3PMSF 'snow flake' alpine symbol
All terrain tyres, and tyres with only the Mud + Snow (M+S) marking, will not be recognised in this new classification.
How do you tell a snow tyre? It will have on its sidewall (the side of the tyre) the 3PMSF 'snow flake' alpine symbol of a mountain with a snowflake inside it like this: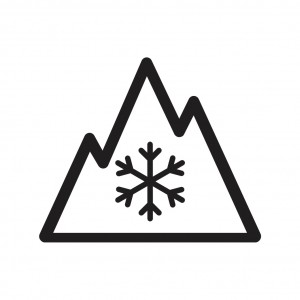 So what does all this mean? The bottom line is, depending on the snow conditions when you are driving up the mountain, even if you are in a 4WD or AWD vehicle, the likelihood of you having to fit your chains is higher than prior years, unless your vehicle is fitted with the recognised 3PMSF 'snow flake" snow tyres.
So, with a snow forecast that is very positive for 2021, our recommendation is to make sure your snow chains meet the regulations and if you don't have recognised snow tyres, then you might want to practice fitting your chains before you leave. And, most importantly, consult your owners' manual regarding whether to fit your snow chains to the front wheels, or the rear wheels of your vehicle, regardless of whether you drive a 2WD, 4WD or AWD vehicle.
Safe driving everyone!